Welcome back to another issue of Hopaganda!
Firstly, I hope everyone had an enjoyable and relaxing Australia Day.
Our thoughts and prayers also go out to those of us who were personally victimised by the holiday. May your hangovers be short and swift.
Without further ado, here is this weeks Hopaganda!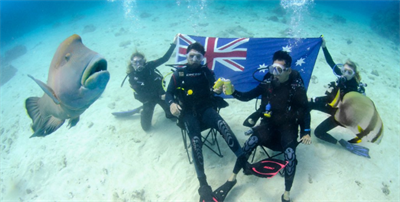 News & Recent Matters
Congratulations to James Bottomley who recently picked up a new client - Shayher Group. James and his team will undertake the leasing work for the Kings Row Office Park at Milton. Comprising 20,772m2 of NLA, the park was acquired by Shayher earlier this year.

Shayher are also developing the mixed-use development "Brisbane Quarter" on the former Supreme Court site as well as a residential development at Hamilton.
Perth Social Club Boat Day
The Perth HG Social Club took to the high seas for its second annual boat day on a 12.5m yellow catamaran. But as with last year, we were unsuccessful in reaching Rottnest Island due to the unfavourable winds. Instead we spent the day at Carnac Island enjoying the company of massive sea lions, seals and dolphins.
Alas there is always next year - third time lucky?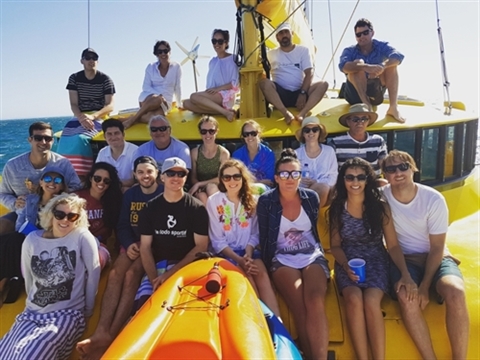 This week was also a memorable one for Hayley Schindler, who developed her own innovative way to inform her colleagues that she had missed her train and would be late for work – by going on the News!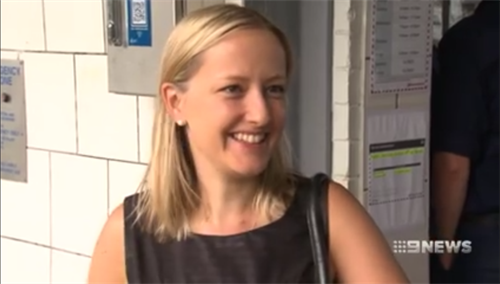 Alerts, Blogs & LinkedIn Pulse
Upcoming Events
2017 Events Calendar
Want to stay on top of all the events happening around HG this year?
Add the Event Calendar to your Outlook using this easy-to-follow guide created by your Events Coordinator, Lucy Rush!
Click on the image below to view the guide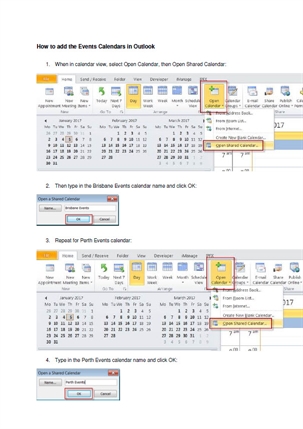 HG Social Calendar 2017
Keep on top of all the upcoming events this year by downloading the 2017 social events calendar!
Note: Perth events are still being finalised and will be added to the calendar within the coming weeks.
Click the picture below to download the calendar or click here.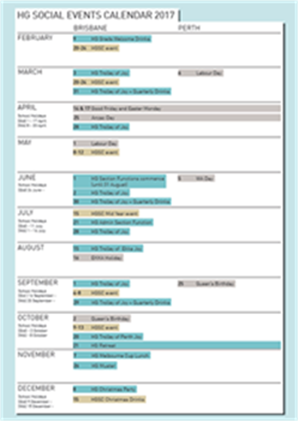 Brisbane - Save the Date!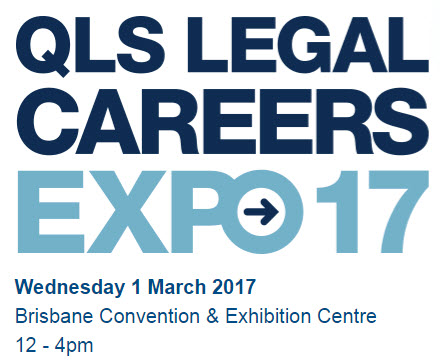 Pat Carroll Running Group (PCRG)
HG is a sponsor of the Pat Carroll Running Group (PCRG) in Brisbane which organises a running group from Southbank on Tuesday, Thursday and Friday mornings. As part of our sponsorship, Pat has very kindly offered that anybody from HG can attend the group running sessions from Southbank free of charge.
If you're interested in taking up this offer to run with Pat (and the 100 or so others who attend these sessions including our very own Darrell Jardine), please have a look at Pat's website for more details about the sessions. All you need to do is introduce yourself to Pat before the group run starts and tell him you're from HG.
We are also going to arrange for Pat to come in and have a bit of a chat about the PCRG sessions and his background representing our country in distance running. If you weren't aware, Pat is still ranked 4th on the Australian all-time list for the Marathon behind Rob De Castella, Steve Moneghetti and Derek Clayton – and he's been retired for 16 years. If you're interested in attending this chat over a sandwich with Pat, please let Lucy Rush know.
For more information click here.

Knowledge Management
Precedents Support
A slight amendment has been made to the archived files index form. This form will now reflect if the boxing of a file is for archiving or for storage offsite. The change will also be reflected in the auto profiling of the document.
HR News & Updates
Anniversaries
Candice Dettori – 15 years
Helen Davison – 7 Years
Katherine Hammond – 7 Years
Samantha Hotton – 6 Years
Luke Dawson – 5 Years
Justin Raiteri – 5 Years
Monique Jay – 5 Years
James Holmes – 5 Years
Elizabeth Harvey – 4 Years

Olivia Potter – 3 Years
Nastassia Tognini – 3 Years
David Hall – 3 Years
Elle McDermott – 3 Years
Fraser Bax – 3 Years
Simon Panegyres – 3 Years
Alina McNess – 3 Years
Catherine Wheeler – 2 Years
Birthdays
January
27 - Tarryn Poole
28 - Kerri Cheung
February
01 - Katrina Hermiston
02 - Andrew Clements
03 - Janita Nadzri
03 - Clare Foran
04 - Justin Raiteri
05 - Alex Moles
05 - Sarah Basso
Arrivals
On Monday 30 January, we have our Perth Summer 2 Vacation Clerks starting,
Alexia Larcher will be joining us doing Work Experience in the Perth office,
Alyce Nielsen will be returning from Parental Leave on Wednesday 1 February,
and Pearl Frankis is commencing as Analyst in the Smart Law team.
Please make them all feel welcome.
Trading Post
Looking to pick up a bargain? Head to our Trading Post on iHop!
Contact Helen Gambley if you would like her to add something to the post.