The Non-Profit Organisation Law is in effect as of Tuesday, 1 August, and Government is informing businesses that operate as charities of their obligation to register as non-profit organisations.
As part of its public education campaign for the NPO law, the Ministry of Financial Services is continuing its one-hour information sessions. For the month of August, these sessions will be held in room 1038 of the Government Administration Building.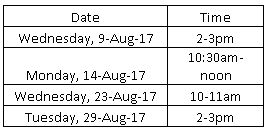 The sessions cover the definition of NPOs; legal requirements for NPOs; and the benefits associated with charities signing up to the NPO register.
The establishment of an NPO register is a central component of the law, as organisations are required to register if they meet the definition of an NPO. This requirement includes companies that currently fall under section 80 of The Companies Law (2016 Revision).
Businesses that are not currently designated under section 80 can qualify for the NPO register if they meet the new law's criteria.
For more information, persons are asked to contact Policy Officer Wilbur Welcome at Wilbur.welcome@gov.ky, in the Department for Financial Services Policy and Legislation.
The content of this article is intended to provide a general guide to the subject matter. Specialist advice should be sought about your specific circumstances.