Article by Doug Black Q.C., Anne Calverley Q.C., Douglas E. Crowther, Bill Gilliland, Alex MacWilliam, Rich Miller, Claude Morency, Cyrus Reporter, Ron Stuber and Helen T. Newland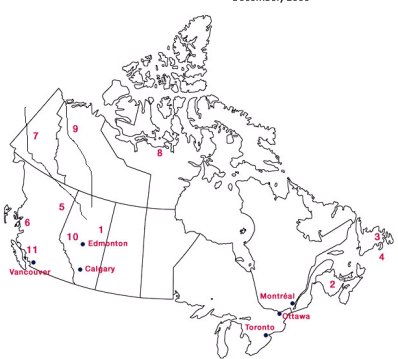 OIL SANDS NEWS
1. Grizzly Oil Sands ULC filed an application with the Alberta Energy Resources Conservation Board (ERCB) and Alberta Environment for Stage 1 development of the Algar Lake Project which will have a design capacity of 11,300 bpd of bitumen. Gulfport Energy, Grizzly's 25% partner, announced that the Project consists of two plant phases and 40 well pairs on four well pads. The first phase will involve one modular central processing facility, 10 well pairs on one well pad, and associated roads and pipelines.
1. Imperial Oil announced that the Kearl oil sands project is on budget with nearly one-quarter of construction complete. The company reported that costs to date for developing the project have totalled $2 billion. Production from Kearl is expected to begin in 2012.
1. Suncor Energy has received approval from the Alberta ERCB for three additional stages at its Firebag in situ oil sands project. The company announced that this expansion keeps it "on target for continued production growth, while at the same time reducing the overall environmental intensity of the barrels" produced. The facilities will use steam assisted gravity drainage ("SAGD") technology, along with a thermal recovery process that allows for deeper oil sands development while limiting surface land disturbance. Suncor also announced that its average oil sands production for the month of February was approximately 211,000 bpd. This figure includes upgraded sweet and sour synthetic crude oil and diesel, along with non-upgraded bitumen sold directly to market from all Suncor-operated facilities, but does not include the company's proportionate production share from its joint venture with Syncrude.
1. Southern Pacific announced that its estimate of gross probable recoverable bitumen reserves at its oil sands lands in McKay, Alberta has increased by 149% to 168.1 mmbbl. The company currently has an 80% working interest in these lands, and is expecting to obtain the remaining 20% interest on June 1, 2010. Southern Pacific is expecting its outstanding application for a 12,000 bpd of bitumen SAGD project to receive regulatory approval in the fall of 2010.
1. Statoil announced that it has pledged to cut carbon dioxide emissions from its Canadian oil sands production by 40% in 15 years. Statoil Canada stated that it will decrease carbon dioxide emissions from planned oil sands projects by 25% by the year 2020, and a further 40% by the year 2025. While the company is anticipating a large initial energy requirement to get oil moving at its Corner project, scheduled to come onstream in 2015 or 2016, Statoil Canada stated that substantial improvements will be seen after the first few years. Corner is expected to produce 60,000 bpd of oil.
EAST COAST NEWS
2. A call for tenders by the New Brunswick government for oil and natural gas exploration rights in the province has resulted in a $46.88 million commitment in exploration work from Southwestern Energy. The Houston-based company will have a licence to search on an area covering more than 934,000 hectares for a three-year term. The government stated in a news release that "[t]his tender call was the largest, by land mass, ever issued in New Brunswick and has generated the highest bid ever received for exploration rights."
2. Corridor Resources announced that drilling is set to begin later this year on New Brunswick land farmed out to Apache Canada. Corridor stated that Apache has indicated it has plans to start drilling operations in southern New Brunswick in June. "Success in these new wells could open up development of the enormous natural gas resources known to be present in the Frederick Brook formation in the Elgin area," the company stated.
WEST COAST NEWS
3. Korea Gas announced it will invest $1.1 billion (U.S.) to develop natural gas fields in Canada jointly with EnCana by acquiring a 50% interest in lands in the Montney and Horn River Basin. EnCana stated that it has extensive lands, and the farm-in agreement with Korea Gas will facilitate development in areas EnCana has not had much of an opportunity to drill yet.
3. Quicksilver Resources plans for a horizontal oil test following encouraging oil shows in uphole cores taken in the Bakken Exshaw section at approximately 4,000 feet from its shale gas wells in the Horn River Basin. "We're seeing some consistency across all the wells that we've drilled so far, and definitely in a thermal maturity window that is oil, and mobile oil," the company stated. The company intends to utilize the horizontal drilling technology which has opened up the Bakken tight oil play in North Dakota and Saskatchewan in the past couple of years. TAQA North announced the drilling of three test wells in the Horn River Basin this winter. The company is anticipating that it will receive data from the wells over the next year which will help in the formulation of a development plan. TAQA sees opportunity for growth in natural gas production from Horn River, and also plans to invest in higher netback oil production. Overall, the company plans to increase capital spending from $315 million (U.S.) in 2009 to $340 million (U.S.) in 2010.
CANADIAN ARCTIC NEWS
4. Canada's National Energy Board (NEB) is proposing to reduce the number of recommendations put forth by a Joint Review Panel in its report, made public at the end of 2009, on the proposed $16.2 billion Mackenzie Gas Pipeline. The report currently contains 176 recommendations for the project, many of which the NEB believes should be combined or removed. Final arguments are scheduled to be heard by the NEB in April, and the Board has said it could release its decision as early as September.
ALTERNATIVE ENERGY NEWS
5. Innergex Renewable Energy announced it will proceed with three run-of-river hydroelectric projects as a result of the commitment by British Columbia Hydro and Power Authority to enter into long-term power purchase agreements with Innergex. The projects are located northwest of Pemberton in the Lower Mainland region of British Columbia. Innergex expects the North Creek project to commence commercial production in 2015, followed by the Boulder Creek and Lillooet River projects in 2016.
6. The government of Manitoba has announced that construction of a 138 MW wind farm in the province will begin immediately, following Patten Energy Group and the provincial electrical utility reaching a 27-year power purchase agreement. The new project, which will be located near St. Joseph in southern Manitoba, will provide approximately 50,000 homes with renewable energy. The government estimates the cost of the project to be about $345 million, with completion scheduled for spring 2011.
ON THE HORIZON
The Alberta government announced it will adjust conventional oil and natural gas royalty rates effective as of the January 2011 production month. The government also plans to promote more innovation and use of new technologies, as well as improve the coordination of regulatory processes. The maximum royalty rate for conventional oil will be reduced at higher price levels from 50% to 40%, and for conventional and unconventional natural gas from 50% to 36%. All royalty curves will be finalized and announced by May 31, 2010.
Athabasca Oil Sands announced it will raise at least $1.35 billion (Cnd.) in the largest initial public offering in Canada in years, a sign which indicates investor interest in the Canadian oil sands has rebounded. The company is currently developing Alberta oil sands lands in partnership with PetroChina. Athabasca stated that its northern Alberta holdings could contain as much as 7.1 billion barrels of bitumen, with its MacKay River and Dover area projects potentially producing up to 500,000 barrels of bitumen a day.
ABBREVIATIONS
In this newsletter, all dollar amounts are Canadian dollars unless otherwise stated. We have also used the following abbreviations: bpd - barrels per day; mmcfpd - million cubic feet per day; bcfpd - billion cubic feet per day; tcf - trillion cubic feet; bbl - barrel; mbbl - thousand barrels; mmbbl - million barrels; bbbl - billion barrels; boe - barrels of oil equivalent; MW – megawatts; kV – kilovolt; km – kilometre.
The content of this article is intended to provide a general guide to the subject matter. Specialist advice should be sought about your specific circumstances.