Article by Doug Black, Q.C., Bill Gilliland, Alex MacWilliam, Miles Pittman, Anne Calverley, Rich Miller, John Hurley, Cyrus Reporter, Ron Stuber and Jerry Farrell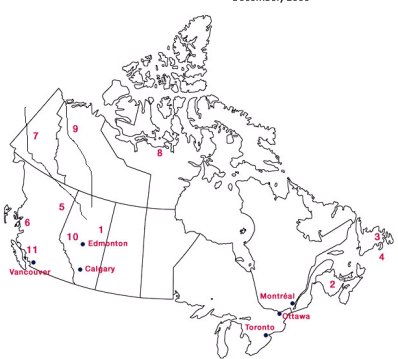 Oil Sands News
1. Suncor announced production from its oil sands facility averaged approximately 306,000 bpd in June. Reported production included Suncor's proprietary production of sweet and sour synthetic crude oil, diesel, non-upgraded bitumen sold directly to market, and products derived from bitumen received from Petro-Canada for processing on a fee-for-service basis.
1. Connacher Oil and Gas resumed field construction with its steam-assisted gravity drainage (SAGD) facility at its Algar oil sands project after temporarily suspending the project last December. The company estimates it will take roughly 275 days to complete construction activities and the drilling of 15 SAGD well pairs. After construction, there will be a 30-day requisite commissioning period and a 90-day steam circulation phase prior to commencement of production. Full plant capacity is estimated to be 10,000 bpd of bitumen. Due to either cancellation or deferral of other oil sands projects in the area, the company said actual costs for labour, services and equipment may be lower than the cost estimates used in the budget for Algar.
1. Imperial Oil has awarded a contract to Fluor Corp. to build infrastructure and facilities for the first phase of its Kearl oil sands project. Fluor stated it will book roughly $1.5 billion in revenue this year from Kearl.
1. Husky Energy announced the company has no intention of shutting down its Tucker in situ oil sands project. The project currently produces between 3,000 to 5,000 bpd of bitumen and by year-end the company is hoping for exit volumes of 5,000 to 6,000 bpd of bitumen.
East Coast News
2. EnCana has acquired a 50 per cent interest in certain zones of Production Licence 2901, offshore Nova Scotia, from Marauder Resources. EnCana is the operator and developer of the Deep Panuke natural gas field of which the zones of the Nova Scotia production licence are believed to comprise a minor portion of.
2. BEPCo. Canada will further its Nova Scotia deepwater plans now that it has been awarded two deepwater offshore exploration parcels which cover over 500,000 hectares. BEPCo. Canada is controlled by Bass Enterprises Production Co.
West Coast News
3. Birchcliff Energy announced it has plans to immediately proceed with construction of its Pouce Coupe South ("PCS") natural gas plant. The plant is expected to cost $47.5 million which includes costs for the acid gas disposal well and a related gathering and sales pipeline. Birchcliff has plans to drill additional horizontal natural gas wells in the Montney/Doig area that are expected to add 3,400 boe per day of net production.
3. Nexen entered production on two horizontal wells drilled last summer in the Horn River shale gas. Initial production for the first month from these wells averaged 850 mcfpd per frac. By the end of the year, Nexen is planning to have six wells at production in the area with a total exit rate of 12 to 18 mmcfpd.
Canadian Arctic News
4. TransCanada announced that the Alaska Pipeline Project will proceed when all of the parties involved agree to cooperate. TransCanada has reached an agreement with ExxonMobil to advance the pipeline project. TransCanada noted that they are continuing to work on Canadian and U.S. federal government support for the project.
Alternative Energy News
Four geothermal companies, including Canadian-based Polaris Geothermal Inc., Western GeoPower Corp., and GTO resources Inc., along with Ram Power, a private U.S.-based geothermal power company, announced they plan to merge into a single, larger company to more efficiently develop "green" power projects. Polaris shareholders will hold a 54.1% stake.
British Columbia's Minister of Energy confirmed that it will remain committed to pursuing the development of more clean, renewable energy through independent power producers, despite a rejection of the government's long-term acquisition plan by the B.C. Utilities Commission. BC Hydro stated that it will be back before the utilities commission with a revised proposal next year.
The Alberta government has shortlisted three of the 10 proposed carbon capture and storage ("CCS") projects as candidates for the $2 billion in government funding available to CCS projects. These three projects are the Alberta Carbon Trunk Line-Northwest Upgrader proposal from Enhance Energy, the Quest CCS project proposal from Shell Canada Energy, Chevron Canada and Marathon Oil Sands L.P., and the Genesee integrated gasification combined-cycle ("IGCC") CCS power generation plant proposal from EPCOR Utilities and Enbridge. The province will negotiate letters of intent with the three proposed finalists and is looking to have contracts secured by the end of the year.
On the Horizon
Suncor Energy and Petro-Canada announced that the Canadian Competition Bureau approved the proposed merger of the two companies. The approval will be registered with the competition tribunal in Ottawa in the form of a consent agreement, noting the companies have agreed to maintain competition in Ontario on both the retail and wholesale sides.
The government of Alberta announced that the proposed program for bitumen royalties in kind will likely not be implemented for at least two years. The government issued a request for expressions of interest in August, 2008, and received 20 submissions. It has also passed legislation allowing it to make regulations for bitumen royalties in kind and the government hopes to issue a request for proposal from private companies interested in managing the program by the end of July, 2009. A spokesperson for Alberta's energy department announced the regulations necessary for a bitumen royalty in kind policy would likely be developed in the 2010 to 2011 time frame.
FMC Publications
Doing Business in Canada: Practical Considerations for Investors
FMC has recently updated our Doing Business in Canada publication. The document provides a general overivew and practical considerations on the establishment, acquisition or conduct of a business in Canada.
Click here to open the publication.
We Have Moved
The Calgary office of Fraser Milner Casgrain LLP has moved as of August 7, 2009.
New Address
Fraser Milner Casgrain LLP
Bankers Court
15th Floor
850 - 2nd Street SW
Calgary, AB T2P 0R8
Click here for more information.
The content of this article is intended to provide a general guide to the subject matter. Specialist advice should be sought about your specific circumstances.