The European Union's General Data Protection Regulation (GDPR) came into force on May 25, 2018. To assist Canadian organizations with their potential compliance efforts with respect to this legislation, the following is intended to provide a non-exhaustive, high-level comparison between the consent provisions of:
the GDPR;
Canada's Personal Information Protection and Electronic Documents Act (PIPEDA);
the Personal Information Protection Acts of Alberta and British Columbia (collectively, the PIPAs); and
Canada's Anti-Spam Legislation (widely known as CASL).
While there are important nuances to each of these regulatory frameworks, they broadly draw on fair information practices that result in substantial commonality among them. In fact, a number of elements in Canadian private sector privacy law, especially in the PIPAs, have anticipated some provisions in the GDPR.
EXPRESS CONSENT
The Alberta and B.C. Privacy Commissioners have held that consent must be "meaningful" (i.e., an individual must understand what an organization is doing with their information).
On or before collecting personal information about an individual, an organization must generally disclose to the individual verbally or in writing: (i) the purposes for the collection of the information; and (ii) the position name or title and the contact information of a person who is able to answer the individual's questions about the collection. Consent can also be implied or deemed in certain circumstances.
The PIPAs provide that an organization shall not, as a condition of supplying a product or service, require an individual to consent to the collection, use or disclosure of personal information about an individual beyond what is necessary to provide the product or service.
Canada's privacy regulators plan to adopt new guidelines applicable to meaningful consent as of January 1, 2019.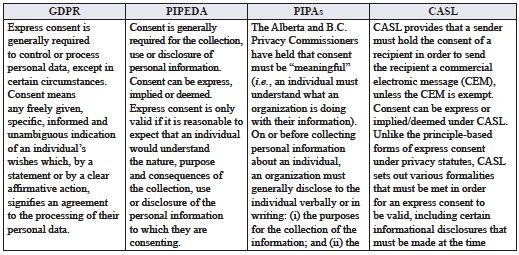 Originally published by Canadian Privacy Law Review
The content of this article is intended to provide a general guide to the subject matter. Specialist advice should be sought about your specific circumstances.