The Ontario Superior Court of Justice recently undermined the established practice of determining damages for wrongful dismissal when it held that an employee, with only a 19 month history with the defendant corporation, was entitled to 12 months' pay in lieu of notice.
In Ontario, the general rule-of-thumb for calculating damages for wrongful dismissal is 3 – 6 weeks of pay for each full year of employment, meaning that an employee with approximately 2 years of service with an employer would be entitled to approximately 2 months of pay in lieu of notice. That calculation also includes the minimum notice requirements under the Employment Standards Act, 2000, which are as follows: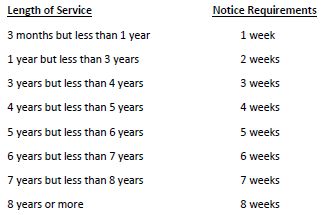 An employer is not entitled to contract out of the Employment Standards Act, 2000, with an employment agreement but it may provide only these minimum notice requirements if they choose. These minimums may be increased by the Courts based on factors such as the age of the terminated employee, the position, the responsibility of the employee and the availability of alternative work. However, the Court's awards generally only result in increasing the damages to the 3 – 6 week per year mark, to a maximum of 24 months' notice, except in the most extreme cases.
In Felice v. Cardinal Health Canada Inc., 2014 ONSC 1190, 2014 CarswellOnt 8419 (S.C.J.), the Plaintiff had an employment agreement that provided he be paid 12 months' salary in lieu of notice, in the event of termination without cause. However, Justice Pollak held that the employment agreement was replaced by a subsequent agreement that came into place when the corporation was taken over by the Defendant some three months earlier, which did not include provision for termination or severance payments.
In the case, Justice Pollak looked at the employee's age, experience, length of employment and position within the corporation, as well as the period of time in which the employee had been unemployed after termination. The involved Plaintiff was 52 years old, had only been employed by the Defendant for a period of 19 months (including his time with the previous business that the Defendant purchased), and was employed as a Vice President and senior executive on the Defendant's management team. As an alternative argument, the Plaintiff attempted to argue that he had been lured to leave a secure position with the City of Oakville to join the Defendant, but this point was rejected by Justice Pollak.
Justice Pollak held that in cases involving the wrongful termination of senior level executives, the minimum notice requirements, even if included in an employment agreement, do not apply and the typical award for damages would be 2 – 3 months per year of employment. However, in this case, the Plaintiff demonstrated at trial a particular inability to secure reasonable alternative employment after his termination and he remained unemployed as at the trial date, some 14 months later. This factor, together with the apparent enhanced damages awarded to executives, resulted in Justice Pollak holding that 12 months' pay in lieu of notice was reasonable under the circumstances.
This case is likely an anomaly in wrongful dismissal jurisprudence, even for executives. There is a long history of cases supporting the general rule-of-thumb that notice for wrongful dismissal at common law is in the range of 3 – 6 weeks per year, or approximately one month of notice for each full year of employment, including the minimum notice requirements under the Employment Standards Act, 2000.
The loss of a job is emotionally devastating for most people and if you've just been dismissed from your employment, for any reason, you have more rights than you think. Many employers offer dismissed employees payment in lieu of notice in accordance with the Employment Standards Act, 2000 in Ontario, but to properly protect your rights in employment you need competent legal counsel well versed in the ever-changing nuances of employment law. Blumberg's lawyers have vast experience in dealing with wrongful dismissal cases and can help you achieve the best possible resolution of your wrongful dismissal in a cost-effective manner. If you have been terminated from your job, or if you have an employment related concern effecting your ability to perform your job properly, please contact our Employment Law Group.
Blumberg Segal LLP also acts for employers who are interested in understanding their legal obligations on hiring an employee and ensuring that the employment agreement is legal and binding, as well as in minimizing risks and damages when dealing with an employee on termination. Whether it is properly drafting an Employment Agreement, or properly complying with the legal requirements in terminating an employee, please contact our Employment Law Group.
Scott Chambers is a partner at Blumberg Segal LLP, practicing in commercial litigation, including employment law, professional negligence litigation, and product liability litigation.
The content of this article is intended to provide a general guide to the subject matter. Specialist advice should be sought about your specific circumstances.