Canada

: 12 Months' Pay In Lieu Of Notice Required For A Terminated 19 Month Employee

The Ontario Superior Court of Justice recently undermined the established practice of determining damages for wrongful dismissal when it held that an employee, with only a 19 month history with the defendant corporation, was entitled to 12 months' pay in lieu of notice.

In Ontario, the general rule-of-thumb for calculating damages for wrongful dismissal is 3 – 6 weeks of pay for each full year of employment, meaning that an employee with approximately 2 years of service with an employer would be entitled to approximately 2 months of pay in lieu of notice. That calculation also includes the minimum notice requirements under the Employment Standards Act, 2000, which are as follows: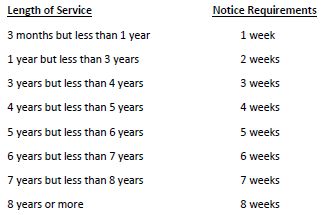 An employer is not entitled to contract out of the Employment Standards Act, 2000, with an employment agreement but it may provide only these minimum notice require
Register for Access and our Free Biweekly Alert for
This service is completely free. Access 250,000 archived articles from 100+ countries and get a personalised email twice a week covering developments (and yes, our lawyers like to think you've read our Disclaimer).
In association with

Mondaq Advice Centre (MACs)
Related Video
Up-coming Events Search
Tools