Full Federal Court decision provides an opportunity for subsidiaries of charities to conduct commercial activities without losing their charitable status.
The Australian Taxation Office ("ATO") may need to re-write Taxation Ruling ("TR") 2005/22 as a result of the Full Federal Court's decision to uphold the single judge's findings in Commissioner of Taxation v Word Investments Ltd. The decision confirms the single judge's view that an entity conducting a business to raise funds for a charity may also have a charitable purpose. This decision is contrary to the ATO's view in TR 2005/22.
The structure of the organisation is as follows: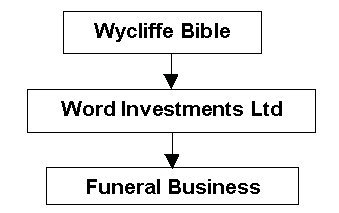 Wycliffe Bible, a missionary organisation seeking to spread the Christian religion through literacy and translation work, set up Word Investments Ltd as means of financial and fund-raising support to Wycliffe Bible. In 2002, World Investments Ltd invested in Bethel Funerals, with the profits derived distributed to two main ministry organisations, one of which was Wycliffe Bible.
Whilst the ATO's view in TR 2005/22 is that a charitable institution could only conduct commercial activities that were ancillary and incidental to the entity's charitable activities, the Court said that "this question turned on the motivation of the organisation and not the manner in which funds are raised". Faced with the question of the purpose of Word Investments Ltd, the court concluded that the additional investment in the funeral business had only changed the manner in which the money was being raised, but the purpose for doing so had remained the same.
It could be argued that this decision provides a precedent for treating all subsidiary entities of charities that are set up to raise funds for the charity through trading a commercial business to be treated as a charity.
It will be interesting to see the ATO's response to this case and ultimately whether all subsidiaries of Universities should apply for endorsement as tax exempt charities or whether changes in the constitution of the subsidiary entity will be required to obtain tax exempt status.
The content of this article is intended to provide a general guide to the subject matter. Specialist advice should be sought about your specific circumstances.