The recent Federal Court decision, Adidas AG v Pacific Brands Footwear Pty Ltd (No 3) [2013] FCA 905, concerned an allegation by Adidas that two of their registered trade marks for the well-known three stripes marks were infringed by a number of Pacific Brands shoes having four stripes. Interestingly, this action was only in respect of the registered trade marks, not passing off or misleading and deceptive conduct under Australian Consumer Law.
Adidas stripe trade marks:
Depictions of the shoes considered by the court are reproduced at the end of this article.
Naturally, Pacific Brands argued that (i) their use of stripes in various styles and groupings on the shoes was not used as a trade mark within the meaning of the Trade Marks Act 1995 and, (ii) the stripes were not "deceptively similar" to the applicants' trade marks.
In the end, only three out of nine shoes (Exhibits E, K, L), were found to infringe Adidas' trade marks, despite extensive expert evidence and survey evidence. Notably, in two of the three shoes found to be infringements, the survey evidence was not considered. In the third infringement, survey evidence was considered but given no weight.
Use as a trade mark
Pacific Brands argued that given the context (using the stripes in various styles and groupings), the places in which the shoes were sold (low cost stores), and the way in which they were sold (hang sell with elastic elements), and use of other marks in conjunction with the stripes meant the four stripes appearing on their shoes were not acting as a badge of origin to distinguish the goods from the goods of some other trader.
Adidas submitted, that in the sports footwear category, logos serving as a badge of origin were traditionally placed on the sides of shoes between the sole and the laces as this space was visible from numerous angles.
Thus, whatever decorative function the four stripe mark may also serve, consumers were accustomed to seeing the material appearing on the side of a sports shoe as functioning as a badge of origin.
Robinson J considered whether the use indicates a connection between the shoes in question and Pacific Brands.
Robinson J said:
'I accept that the stripes on the shoes have a decorative element and that the stripes may also act to indicate that each shoe is a sports shoe but that does not mean that those elements constitute the only use of the stripes as a sign: they are not mutually exclusive.'
Robinson J found that in each case the stripes on the impugned shoes were used as a trade mark, and the use indicates a connection between the shoes in question and Pacific Brands.
Deceptive similarity
Pacific Brands submitted that the shoes in Exhibits C through N contained four stripes in various styles and groupings, and that in bringing this infringement proceeding Adidas was seeking to extend its monopoly over its 3-Stripe trade marks with respect to shoes to the use of four stripes on shoes.
Pacific Brands also submitted that a) from a visual inspection, the 3-Stripe trade marks were simple – three stripes in a simple parallel configuration; b) Adidas had always used three stripes and had never used four stripes; c) Adidas builds an "aspirational product" made to high standards and to meet various performance specifications to which its 3-Stripe trade marks were applied; and d) Adidas had spent very large sums of money promoting its footwear bearing the 3-Stripe trade marks for more than 60 years.
In contrast, all of the Pacific Brands shoes were: a) made of synthetic materials with no performance specification (they were commodity shoes of basic or poor quality), and this was the type and quality of shoe to which the various four stripes were applied; and b) the shoes were not advertised and were sold in basic displays (hang sell, stacked boxes) where the stripes were often obscured. Taking all this into account, Pacific Brands submitted it was very unlikely that there would deem any confusion with the Adidas 3-Stripe trade marks.
Intention to infringe
Emphasis was placed by Adidas on Pacific Brand's 'intention' to trade off Adidas' reputation, notably that Pacific Brands: was the successor in business to a former licensee of the 3-Stripe trade marks; had made a conscious attempt to create colourable variations on the 3-Stripe trade marks; and had copied other aspects of shoes bearing the 3-Stripe trade marks.
Pacific Brands submitted that Adidas' assertion (which was late in proceedings) of Pacific Brands' intention to "sail close to the wind" was a desperate attempt to try and shore up its hopeless application for a permanent injunction with respect to four stripes on the sides of shoes.
Robinson J was not convinced by Adidas' arguments on 'intention to infringe'. There were various informal and formal undertakings given by Pacific Brands to Adidas in the past to cease dealing in other shoes that Adidas had complained about. This was evidence of Pacific Brands' decision to resolve Adidas' complaints on pragmatic, commercial terms and not an acceptance of trade mark infringement nor, as Adidas contended for, evidence of Pacific Brands' intention to "sail close to the wind".
Survey evidence
Adidas attempted to rely upon survey evidence in the form of an internet survey with a number of questions. Robinson J gave the survey little weight. He agreed to take the results of it into account as a point of comparison with his own conclusions but did not use the results to alter the conclusion to which he would otherwise have come about each shoe.
The principal reason being that:
The survey did not sufficiently replicate or correspond with the experience of a consumer in the marketplace.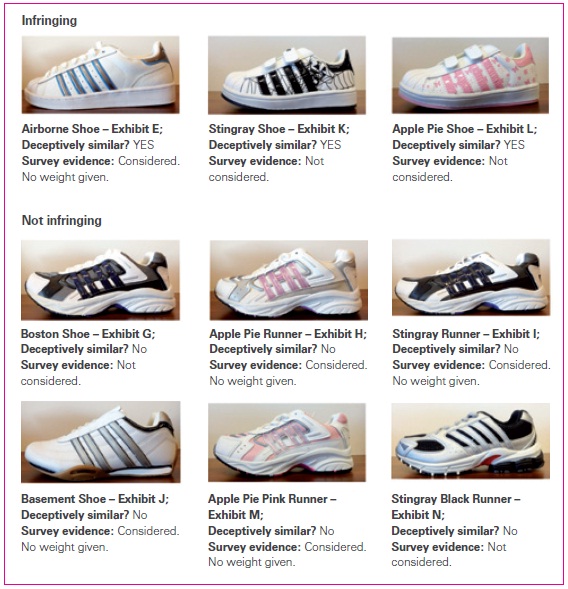 The consumer was shown an online photograph of a shoe and asked; "Who do you think makes this shoe?" This suggested to the participant that he or she ought be able to discern the origin of the shoe from the photograph and in particular, from the appearance of patterns on the shoe.
Conclusion
We can drawn various conclusions from this decision:
A design element may act as both a decorative feature and a trade mark, and therefore can infringe a trade mark.
Survey evidence is often of limited probative value.
Questions posed in a survey and the manner in which a survey is conducted must be carefully considered, taking into account way in which the product/service that is the subject of the survey is sold.
The content of this article is intended to provide a general guide to the subject matter. Specialist advice should be sought about your specific circumstances.