Peru

: Managing Corporate Taxation in Latin American Countries - Peru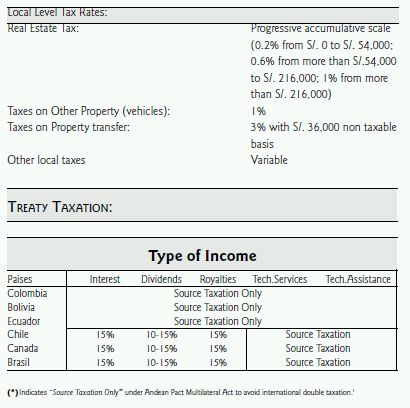 Footnote
1. Andean Pact Commission, Multilateral Act No. 578 of 2004.
Overview
1. Income Tax
1.1. General Aspects
1.1.1. Income Tax Rate.
30% applicable to domiciled companies including Peruvian branches of foreign companies. Dividends and profit distribution are subject to a 4.1% withholding (not applicable to non domiciled companies).
1.1.2. Taxable Base. Income derived from capital, work or both factors, are deemed as taxable income. This includes income from habitual sale of goods, capital gains, and results of transactions with third parties. All revenues are subject to income tax unless otherwise excluded by law.
1.1.3. Deductions.
Register for Access and our Free Biweekly Alert for
This service is completely free. Access 250,000 archived articles from 100+ countries and get a personalised email twice a week covering developments (and yes, our lawyers like to think you've read our Disclaimer).
Some comments from our readers…
"The articles are extremely timely and highly applicable"
"I often find critical information not available elsewhere"
"As in-house counsel, Mondaq's service is of great value"
Mondaq Advice Centre (MACs)
Up-coming Events Search
Tools