European Union

: New Capital Requirements For European Banks – Grandfathering For Existing Equity Instruments

As recent developments have shown, it is highly unlikely that the EU Capital Requirements Regulation (CRR) on credit institutions and investment firms, which aims to put in place a comprehensive and risk-oriented regulatory frame work through out the EU, will enter into force on 1 January 2013 in the whole European Union (even though some EU Member States would be ready to implement Basel III as at 1 January 2013). Still, the implementation of Basel III is imminent. The goal is a sounder and safer European financial system. As the global financial crisis revealed the short comings of the current regulatory environment as to the prudent operation of the European credit institutions, the CRR envisages stricter rules for institutions' own funds, liquidity and leverage.

The impact of the CRR on the own funds is shown in the graph below.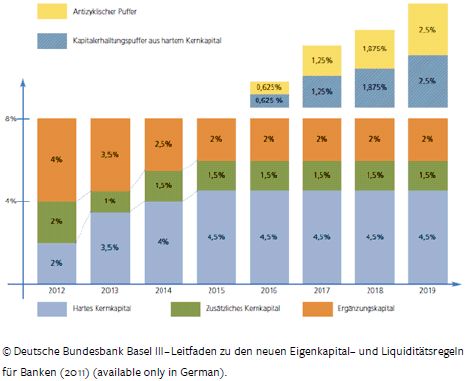 More and better-quality own f
Register for Access and our Free Biweekly Alert for
This service is completely free. Access 250,000 archived articles from 100+ countries and get a personalised email twice a week covering developments (and yes, our lawyers like to think you've read our Disclaimer).
Some comments from our readers…
"The articles are extremely timely and highly applicable"
"I often find critical information not available elsewhere"
"As in-house counsel, Mondaq's service is of great value"
Mondaq Advice Centre (MACs)
Related Video
Up-coming Events Search
Tools